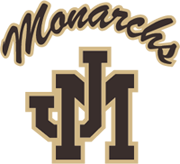 Monarch Relays
When:                  Friday, April 15th, 2022
Where:                 Monarch Stadium, Moundsville, WV
Time:                    3:45- Coaches Meeting/Scratches Due
4:00- Field Events Start
5:00- Running Events Start
Events:                 One Session Meet with a 30-minute break after the 400m Dash
A Distance Medley Relay (1200-400-800-1600) will replace the 4x800m Relay
Field Events:
Boys Discus, Long Jump, and Pole Vault first, Girls to follow
Girls Shot Put, High Jump first, Boys to follow
Running Events:
                                DMR (1200-400-800-1600)
100m/110m Hurdles
100m Dash
4x200m Relay
1600m Run
400m Dash
               300m Hurdles
4x100m Relay
800m Run
200m Dash
3200m Run
Shuttle Hurdle Relay
4x400m Relay
Fees:                     $50 per team OR $75 per school
Please make checks payable to "John Marshall Track & Field"
Admission will be $5 for adults, $3 for students
Entries:                 All entries will be done on athletic.net
Each team will be allowed 3 individuals and 1 relay.
Entries are due on Thursday, April 14th at 7:00 PM
Live results will be found on athletic.net
Awards:               Medals will be given to the 1st through 3rd place finishers with 4th through 6th place receiving ribbons.
                                Team trophies to 1st and 2nd place.
Hospitality:        There will be a hospitality room for coaches in the locker rooms.
Questions:          For any questions, please contact Mitchell Burkett (mitchell.burkett@k12.wv.us)                                                               or Andy Fletcher (william.fletcher@k12.wv.us)